ATHENS, GREECE – According to U.S. Geological Surveys, the Eastern Mediterranean holds 35 trillion cubic feet of natural gas and 3.5 billion barrels of oil. That alone is enough to power the entire EU For 20 years. These vast energy discoveries have presented the opportunity for increased cooperation–or conflict. The timely First Annual Eastern Mediterranean Leadership Summit addressed opportunities and challenges for regional and transatlantic cooperation.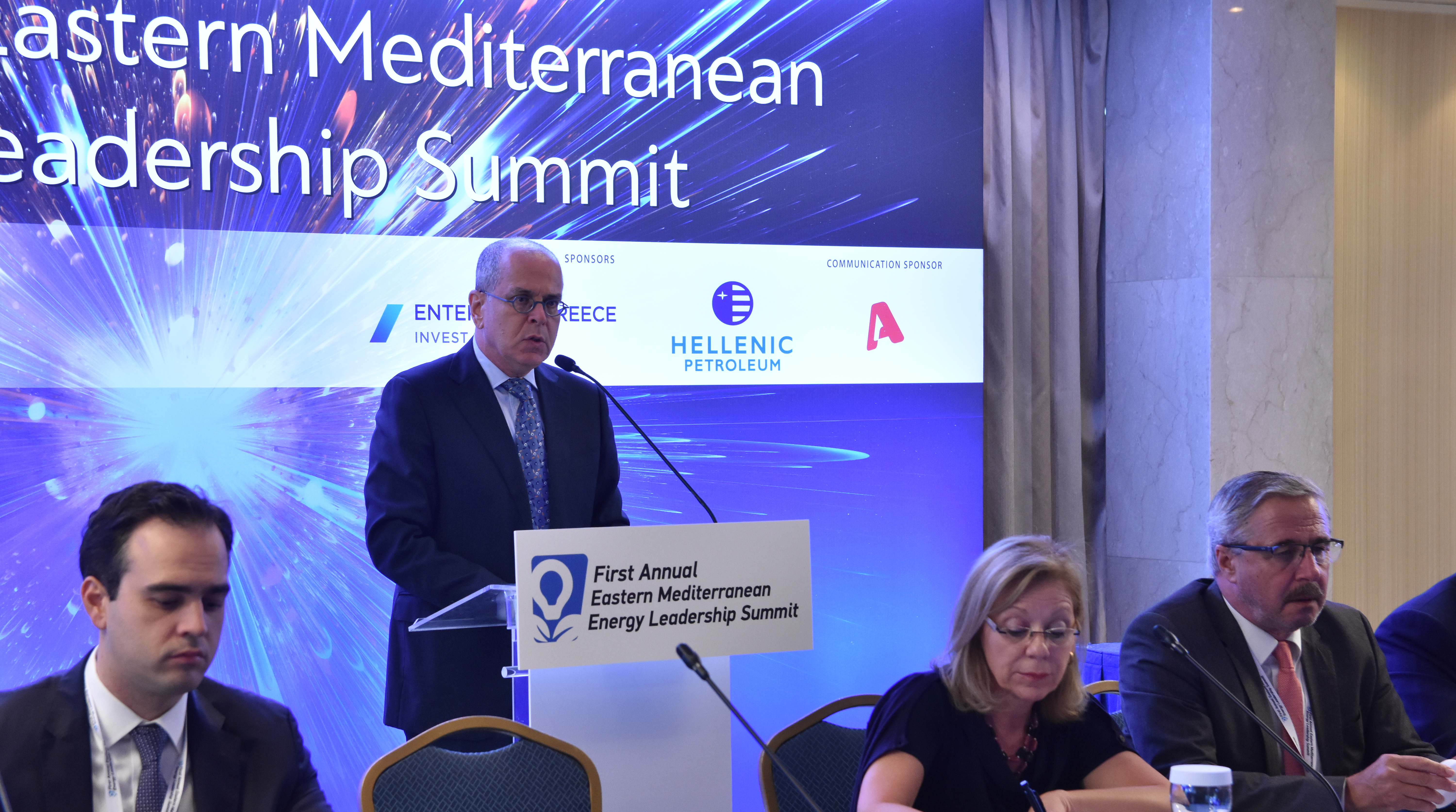 On the second day of the First Annual Eastern Mediterranean Energy Leadership Summit, Ambassador Yossi Amrani, Israeli Ambassador to Greece, provided opening remarks. Amb. Amrani discussed the importance of the Israel-Greece relationship, as well as the Cyprus-Greece-Israel triangle, in Eastern Mediterranean energy.
 Amb. Amrani: Cooperation between Cyprus, Israel and Greece gives Europe stability. We have to invest in cooperation, and in developing frameworks of cooperation. The EU of today is the result of agreements in the 1950s and 1960s on gold. Agreements on energy will offer a future to the Middle East in a similar fashion. The discovery of gas fields and future export decisions will be paramount to new openings to Israel to the world moving forward.
Future of Oil and Gas in the Eastern Mediterranean: Policy Perspectives
The first panel offered alternative scenarios and policy perspectives on oil and gas in the Eastern Mediterranean. Panelists included Yiannis Maniatis, former Greece Minister of Energy; Konstantinos Xifaras, CEO of DEPA; Roudi Baroudi, CEO of Energy & Environment Holding; Alexandros Lagakos, Founder of the Greek Energy Forum; and Eirini Cheila, Professor at Panteion University, who chaired the panel.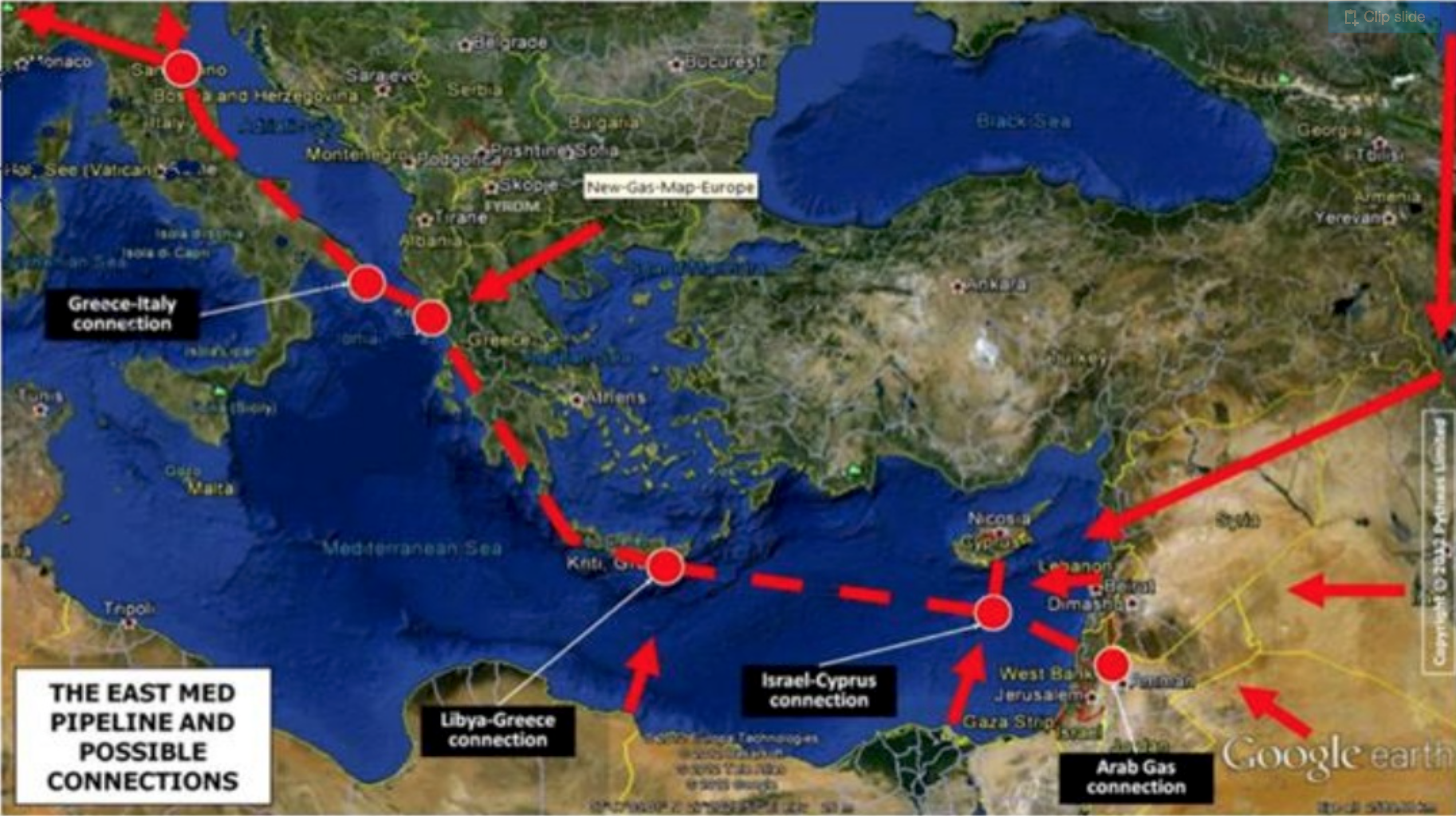 Yiannis Maniatis gave an overview of Greece's energy revolution during the financial crisis, and where its strategy stands now. He contended that two parameters will radically change energy production and exploitation: climate changer, and the 4th revolution of technology (artificial intelligence / 3D printing / machine learning / the Internet of Things). This has launched Greece into the picture for offering Europe energy diversity. 
Maniatis noted that the Revithoussa terminal has the opportunity to produce 7 billion cubic meters (bcm) of natural gas, which can provide for Greece's energy needs, and export the 5 bcm remaining to Europe. The former Minister of Energy also highlighted energy storage vis a vis lithium, cobalt, and nickel batteries as the next geopolitical game in energy. His presentation can be found here (Greek).
Roudi Baroudi, CEO of Environment and Energy Holding, discussed the importance of resolving maritime border disputes for progress in the Eastern Mediterranean energy sector. According to Baroudi, there are only 16 treated boundaries, and 38 that remain untreated. This prevents companies from acquiring deeds to operate.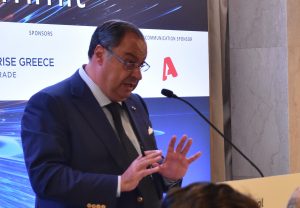 Roudi Baroudi: It is clear that when it comes to maritime boundaries, international laws have developed practical tools for states committed to a peaceful outcome. Once all the facts are known, today with high-tech satellite imagery, we can find the specific locations that a border should be delimited. All of the guesswork is then gone, and we can then invite the Eastern Mediterranean countries to sign.
Securing Financing, Enabling Investment
After the first panel, Elias Eliades, Deputy Director of Investment Promotion & Facilitation, Enterprise Greece, spoke on securing financing and enabling an environment for investment. Eliades made note of many opportunities for investment spanning all subsectors of the energy industry, including: waste to energy projects; hydrocarbon exploration; and new infrastructure in gas transmission. His presentation can be found here.
Eliades also highlighted the upcoming privatization of major energy utilities in Greece: Public Gas Corporation (DEPA), Public Power Corporation (PPC-DPI), Hellenic Petroleum (HELPE) through HDRAF, Hellenic Electricity Distribution Network Operator (HEDNO S.A.).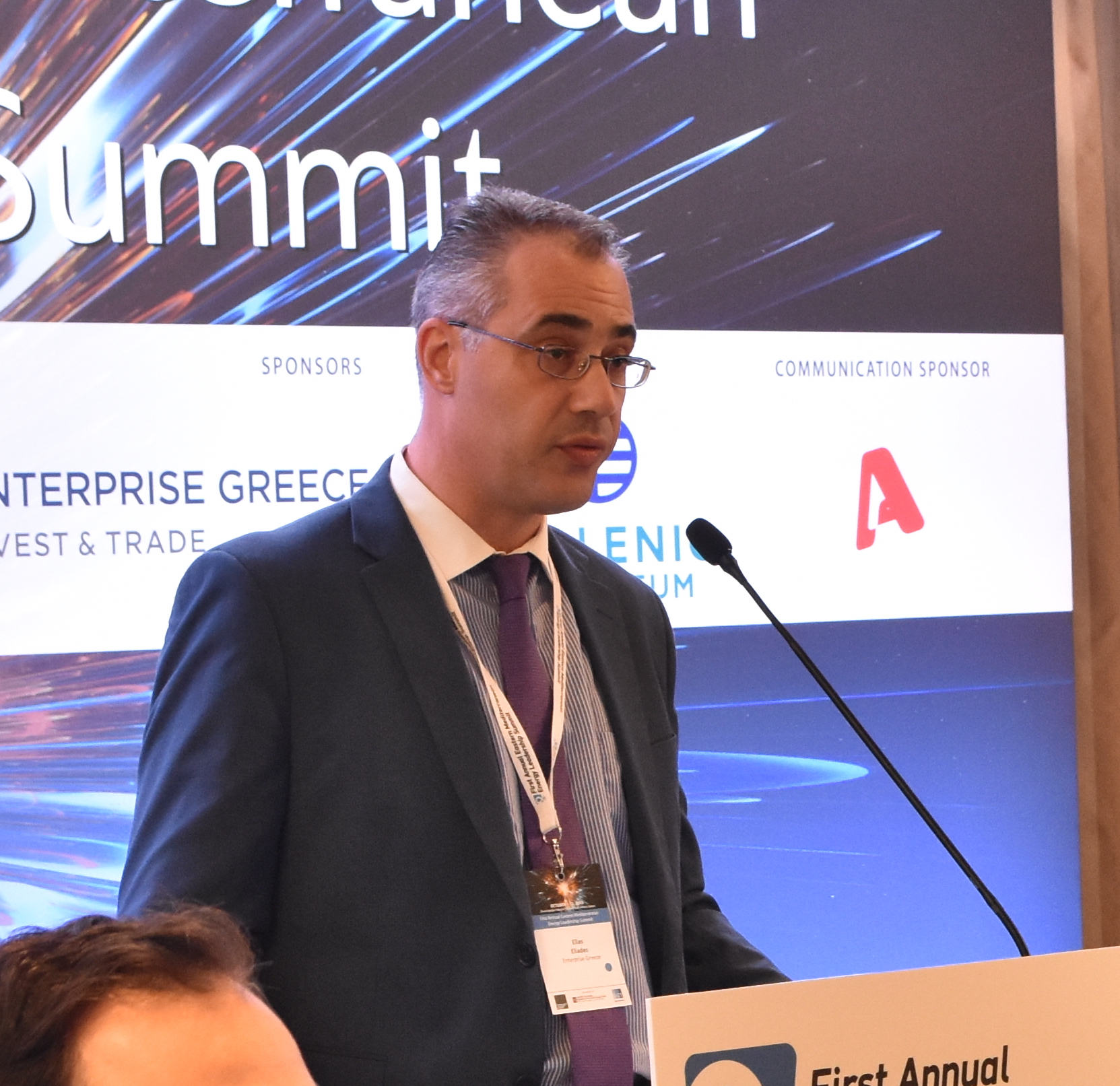 Eliades also highlighted the upcoming privatization of major energy utilities in Greece: Public Gas Corporation (DEPA), Public Power Corporation (PPC-DPI), Hellenic Petroleum (HELPE) through HDRAF, Hellenic Electricity Distribution Network Operator (HEDNO S.A.).
Opportunities for Energy Cooperation in the Eastern Mediterranean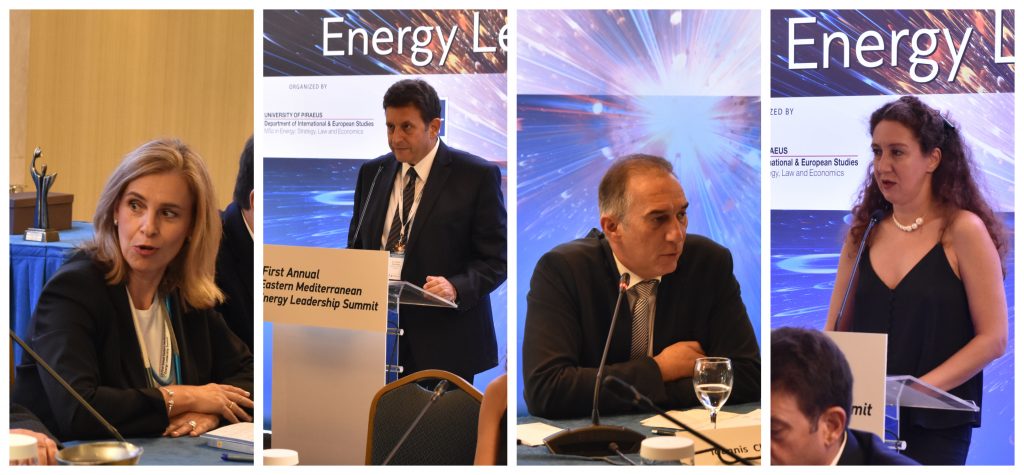 The second panel offered a project view of ongoing energy opportunities in the Eastern Mediterranean. Panelists included Ioannis Kassoulides, former Cyprus Minister of Foreign Affairs; Symeon Kassianides, Chairman of Natural Gas Public Company of Cyprus; Stefania Mosse, CEO of DEDA, Greece; Ioannis Chomates, Project Management Division Director of DESFA, Greece; and Konstantina Botsiou, Associate Professor at the University of Peleponesse, who chaired the panel.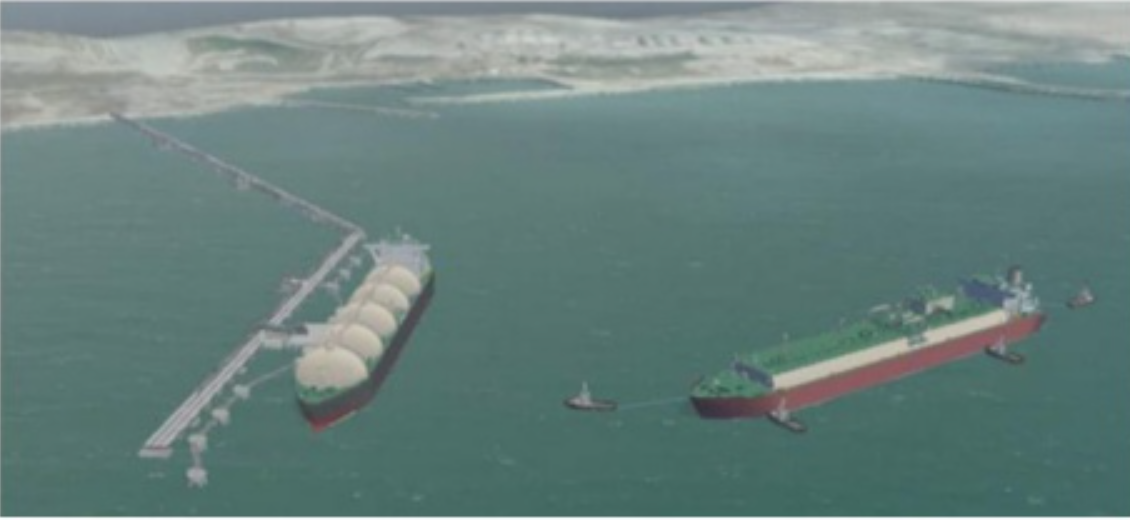 A consortium consisting of China Petroleum Pipeline Engineering, AKTOR SA, METRON SA, Hudong-Zhonhgua Shipbuilding, and Wilhelmsen Ship Management won the proposal. The first product of natural gas for power generation is expected before the end of 2021. Thus far, Cygas has received 25 expressions of interest for supplying gas to the import terminal.
Stefania Mosse emphasized the need for regional synergy and investment in gas transportation and distribution infrastructure for a successful energy transition. Her remarks can be found here (Greek). Mosse introduced a plan to create a 2,000 kilometer-long gas distribution network reaching 35 cities and comprising over 45,500 connections. According to Mosse, this will have immense implications for energy access in households across the country, given that gas is 30% cheaper than heating oil, and more environmentally friendly.
Mosse: By taking advantage of its position, Greece can become a major gateway to natural gas in Europe. By properly managing resources and utilizing the possibility of financing  through NSRF and low-interest loans, gas reaches citizens with minimal connection costs, low distribution tariffs and some in-house subsidies.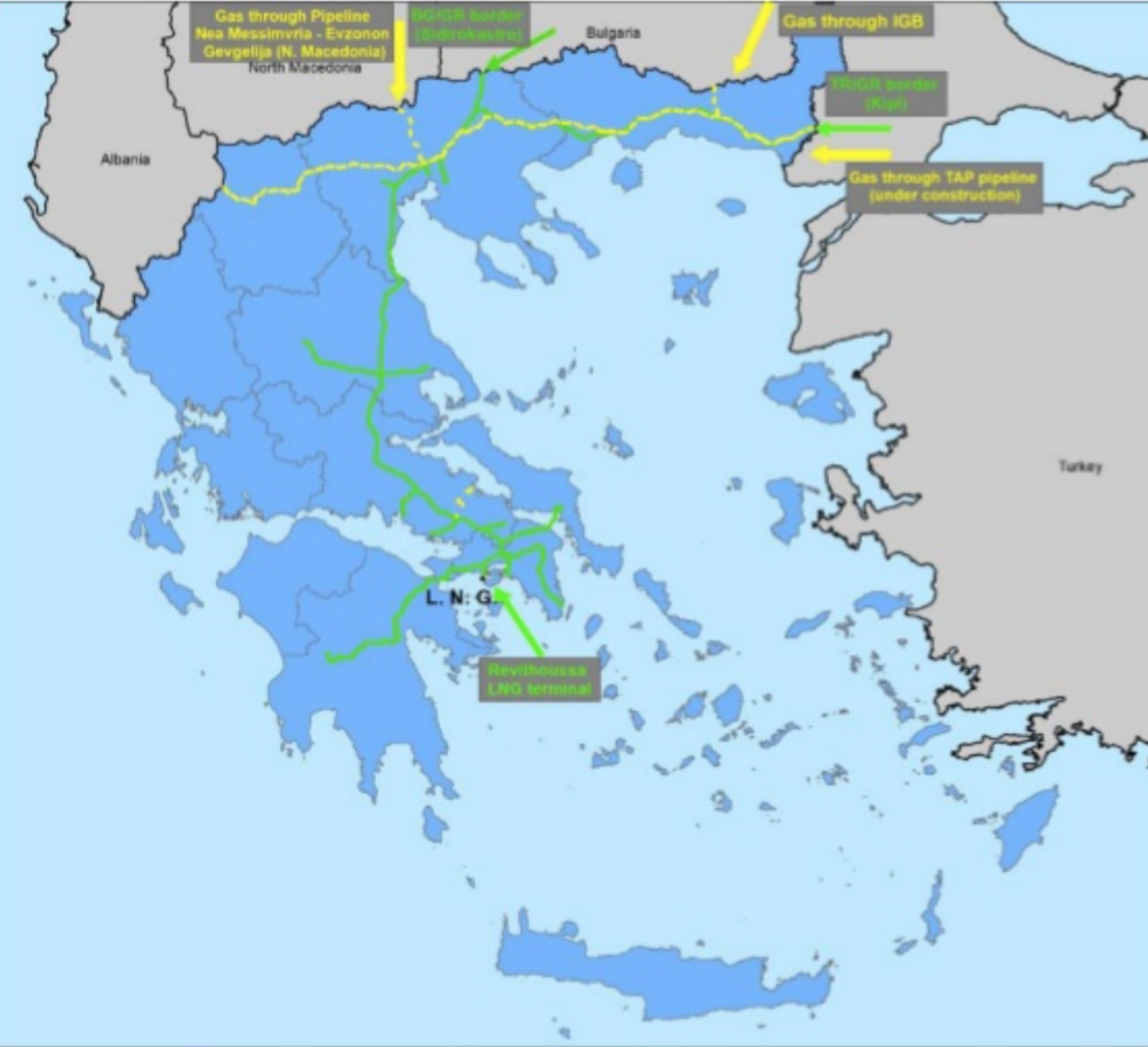 Ioannis Chomates gave an overview of DESFA's recently completed, ongoing, and near-future projects. The overall budget for ongoing and recently completed projects is 325.12 million euros; for new projects, 270.9 million euros. Projects of major importance for DESFA include interconnections and small-scale LNG projects, including a new jetty at LNG Revithoussa (34 million euros) and a virtual pipeline to Atherinolakkos in Crete (175 million euros). View his presentation here.
Prometheus Energy Lecture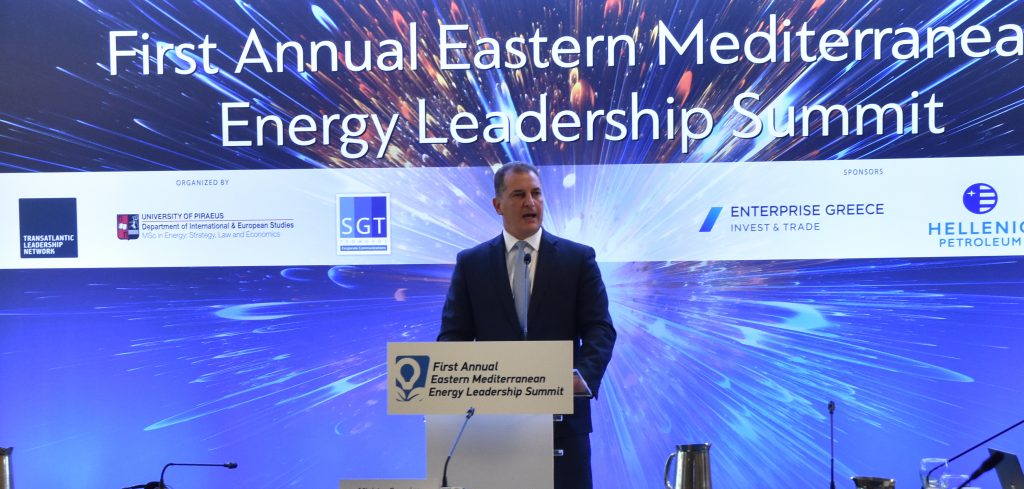 The Summit concluded with the Prometheus Energy Award Lecture, an annual award given by the University of Piraeus. This year, Georgios Lakkotrypis, Cyprus Minister of Commerce, Industry, and Trade, received the award, and presented the lecture on government policies over gas discoveries and how to further enhance regional cooperation. His presentation can be viewed here.
As Cyprus seeks energy independence, friction has developed with Turkey, who wants an agreement with the Turkish Cypriots on how the energy wealth will be shared. Turkish ships are exploring for oil and gas in the area, including in some areas Cyprus has demarcated as its Exclusive Economic Zone.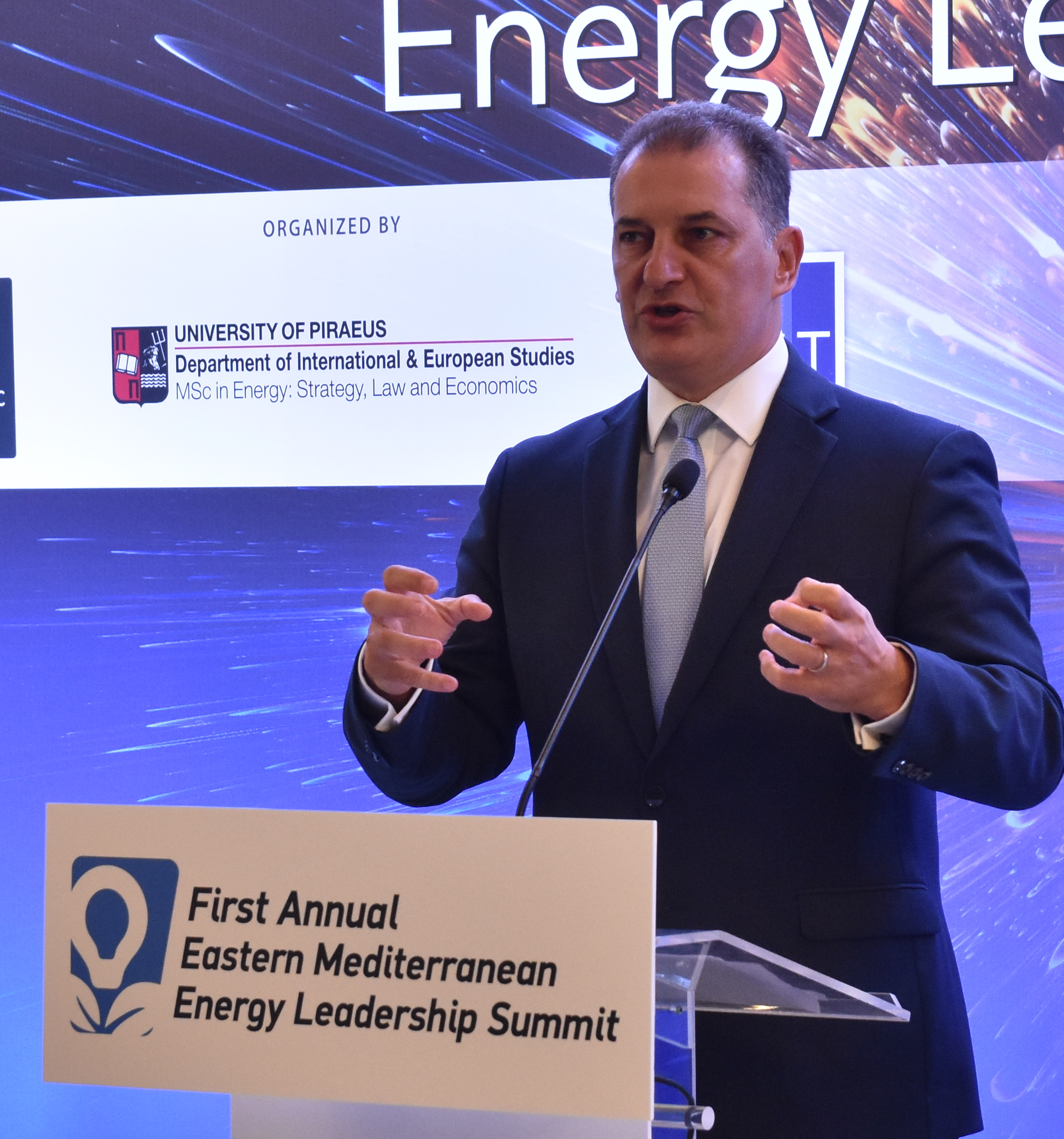 Lakkotrypis: If we accept Turkish version of Cypriot EEZ, we would be left with 31 percent of what it actually is today. All of the discoveries in Cyprus so far would all fall in other countries. I think Turkey must first answer the question: how is that in the interest of Turkish Cypriots?