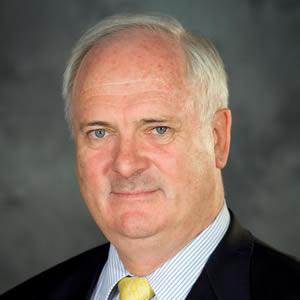 John Bruton
Distinguished Fellow
The Future of Transatlantic Relations
John Bruton was Prime Minister (Taoiseach) of Ireland from 1994 to 1997. He was first elected to Dail Eireann in 1969 and served continuously as a member until 2004.
In the 1970s, he was a Parliamentary Secretary in the Departments of Education, and of Industry and Commerce. In the 1980s, he served as Minister for Finance (twice), Minister for Industry and Energy, and as Minister for Industry, Trade, Commerce and Tourism . He was Leader of the Fine Gael Party from 1990 to 2001.
From 2002 to 2003, he was a member of the presidency of the Convention on the Future of Europe, which did the bulk of the drafting work of the Lisbon Treaty, which currently governs the operations of the European Union. From 2004 to 2009, he was EU Ambassador to the United States.
From 2010 to 2015, he was President of IFSC Ireland. He was also a member of the board of the Montpelier.re Insurance company from 2010 to 2015. Currently, he is a member of the boards of Ingersoll Rand, of the Irish Diaspora Loan Origination Fund, of Smart Invest Ltd and of the European Advisory board of Eli Lilly. He is also a member of the board of the Centre for European Policy Studies, of Cooperation Ireland, and of the Club de Madrid.
Mr Bruton graduated from University College Dublin with a Bachelor of Arts degree in economics and politics. He holds Honorary Degrees from Memorial University of Newfoundland, the University of Missouri, and the National University of Ireland.