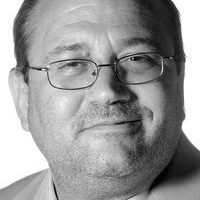 Shaun Waterman
Media Fellow
Cybersecurity Correspondent, Newsweek
Shaun Waterman is an award-winning journalist who has worked for the BBC, United Press International and POLITICO, and an expert on cybersecurity and counter-terrorism who has presented at leading conferences like Hacker Halted and the Aspen Security Forum. He is also a seasoned newsroom manager and business leader who has, in the past decade, launched and run two of the best-respected and most widely read DC daily cybersecurity newsletters — POLITICO Pro's Morning Cybersecurity and Scoop News Group's CyberScoop. In June 2022, Shaun joined the enterprise reporting team at Newsweek, covering cybersecurity and other technological threats.
He became UPI's Homeland and National Security Editor shortly after the Sept. 11, 2001, terror attacks, covering the Department of Homeland Security from its standup in 2003. His reporting on the Sept. 11 Commission and the tortuous process by which some of its recommendations finally became law in the 2004 Intelligence Reform and Terrorism Prevention Act earned him a "Dateline Washington" award from the Society of Professional Journalists in 2005. In 2009-10 Shaun produced a major report on cybersecurity for critical infrastructure at the Center for Strategic and International Studies, a leading Washington think tank.
From 2010-2013, he wrote about intelligence, national security and emerging cyber conflicts as a staff reporter for The Washington Times — earning a second "Dateline Washington" award in 2012. Prior to joining UPI, Shaun worked as a senior producer for the British Broadcasting Corporation. In 1999, he was sent to Washington to run the BBC's American radio news desk, providing round-the-clock news from all over both American continents.
Before joining the BBC, he worked as a freelance journalist and parliamentary aide in London, writing for publications including the investigative magazine Private Eye, where he exposed "operation Jackpot" — one of the biggest corruption investigations in the history of the Metropolitan police. Before becoming a journalist, he was a community organizer in Tottenham, north London, working on issues of police violence and racism.
Shaun, who is British, has a master's degree in social and political sciences from King's College, Cambridge. He is married and lives in Washington, DC with his wife and three American sons, Miles, Harry and Peter.