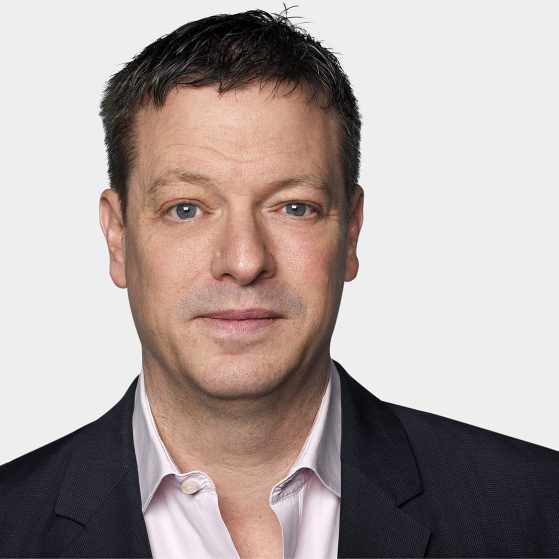 Doug Saunders
Media Fellow
International Affairs Columnist, The Globe and Mail
Doug Saunders is the international-affairs columnist for the Canadian newspaper The Globe and Mail and an author known for his published works on urban affairs, migration and global trends. A citizen of Canada and the United Kingdom, Doug was born in Hamilton, Ontario, and educated in Toronto. He has been a writer with the Globe since 1995. In 1999, he became the paper's Los Angeles bureau reporter. From 2003 until 2012, he was the paper's London-based European bureau chief, responsible for the paper's coverage of more than 40 countries. From 2013 to 2015 he was the paper's online opinion editor and creator of the online Globe Debate section. In 2016, he co-designed the Germany pavilion at the Venice Architecture Biennale, based on the ideas in his book Arrival City. From 2019 to 2021, he was resident in Berlin as a Richard von Weizsäcker fellow of the Robert Bosch Academy, where he pursued research in five countries on socio-economic crises in the urban periphery. He has served as a policy consultant to the World Bank, the IOM and other international organizations.
He has won the National Newspaper Award, the Canadian counterpart to the Pulitzer Prize, on five occasions. He has also been honoured with the Schelling Prize for Architectural Theory, the Donner Prize, the Wenjin Book Award, the Stanley McDowell Prize for writing and has been a finalist for the Lionel Gelber Prize, the Shaughnessy Cohen Prize, the BC Book Prize and a National Magazine Award.
He has published three books. His first, Arrival City (2010) chronicled the unprecedented wave of rural-to-urban migration and the rise of urban immigrant enclaves, using firsthand reporting on five continents. It has been published in eight languages and has won numerous honors, including the Donner Prize for best book on politics and a runner-up for the Gelber Prize for the world's best international-affairs book. His second, The Myth of the Muslim Tide (2012), examined the effects of immigration from Islamic countries to the West and has been published to acclaim in Canada, the United States and Germany. His third, Maximum Canada: Why 35 Million Canadians Are Not Enough (2017) is a detailed examination of Canada's history of population loss, its current problems of underpopulation and the obstacles to future population growth.