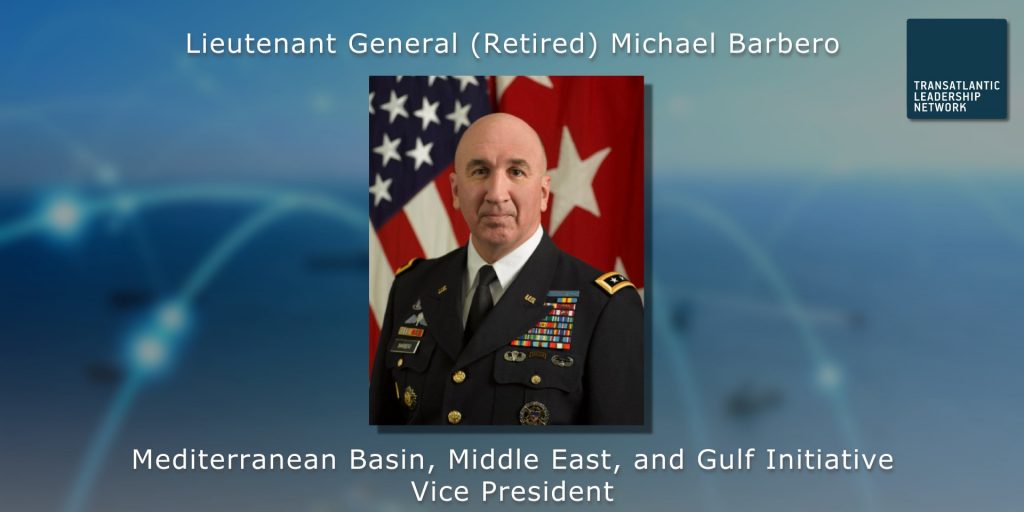 FOR IMMEDIATE RELEASE, Washington, DC (February 17, 2021): The Transatlantic Leadership Network congratulates Lieutenant General (Retired) Michael Barbero for joining TerraScale in the role of Chairman. General Barbero is the Vice President of the Transatlantic Leadership Network's Mediterranean Basin, Middle East, and Gulf Initiative.
TerraScale is a clean infrastructure design and development firm that is transforming and modernizing digital infrastructures around the world. As its Chairman, General Barbero will assist with the development and implementation of TerraScale's global vision and will help lead the company's rollout of Project Energos, a plan to develop large-scale clean digital infrastructure projects around the world.
"We are immensely excited to see General Barbero's success in the private sector," said Dr. Sasha Toperich, Senior Executive Vice President of the Transatlantic Leadership Network. "His contribution to the Mediterranean Basin, Middle East, and Gulf Initiative has been nothing short of a tour de force. Digital infrastructure and sustainable technologies have become fundamental to modern innovation. I am certain General Barbero will have immense success in these sectors as Chairman of TerraScale."
General Barbero is a career Infantry leader, who has served in a wide variety of leadership assignments and has commanded forces at every grade, from Lieutenant to Lieutenant General. While a General officer in the US Army, he spent 46 months in Iraq over 3 separate combat tours of duty. He has 4 years of experience in the Middle East coordinating intricate political-military operations, advising senior government leaders and building capacities of foreign security ministries and forces while controlling a $13 Billion Foreign Military Sales program.
Former CIA Director, General (Retired) David H. Petraeus referred TerraScale to General Barbero. General Barbero said of the opportunity: "I believe that clean, efficient digital infrastructures are key to preparing for the future, and that TerraScale has the resources, passion, and expertise to lead this transformation."
###
The Transatlantic Leadership Network is a nonpartisan international network of practitioners, private sector leaders, and policy analysts dedicated to strengthening and reorienting transatlantic relations to the rapidly changing dynamics of a globalizing world.